Swimming with company in the Maui ocean
It's 6:30am in Maui on Labor Day 2012, the sun is just about to come up over Haleakala, I'm wide awake on California time and I walk into the ocean.
This is my meditation. I jogged into the water at the Wailea beach with David Bowie playing on my swimp3 waterproof headset. The water was like a millpond: grey, clear and flat with only the slightest ripple at the edge. As I pushed into the water (shaking off the initial chill) I felt the wash of calm come over me. There is simply no more beautiful experience.
But the best was yet to come. This time I was not alone in the water.


Of course there were lots of fish. Humu humu, angel fish, goat fish, porcupine fish all snacking in the early morning light. And then, I was joined by a manta ray. He came along about 5 feet underneath me, cruising along just a little bit faster than me, gently flipping his wings. I held my breath and then, once I remembered to breathe, sped up so I could stay with him for a while. Of course, that was not far… he was much better equipped than me for the environment.
This swim was a pilgrimage. A year ago I did the 2.4 mile ocean swim in Maui to raise money for ovarian cancer in honor of my mother. It was important to me to swim in the Maui ocean again this year (and the race was cancelled) and so this particular morning was a longer swim than normal.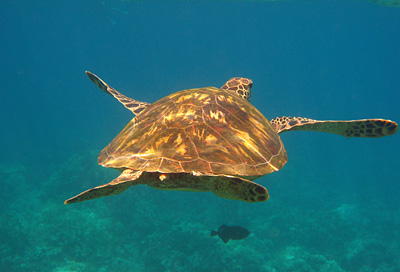 To my delight, I was rewarded a second time. This time by a more social creature than the ray. A huge turtle decided to swim along with me for a while. She swam up beside me just a few feet away, surfaced to check out what else interesting might be happening, and then swam along with me. For 5 glorious minutes I was not swimming alone. Of course she got bored eventually and, with the smallest flip of her fin, turned out to sea and moseyed away. But I was enchanted.
Running a fast growing tech company in Silicon Valley is an intense experience. Round the clock, stressful and exciting, joyful and frustrating. But it's a journey, not just a destination, and the journey needs to be enjoyed. And sometimes that means stepping away from it into a different world.
Photo credit: Sunrise – planetware; Mantra ray – Long shore photography; Turtle – thedigitalstory.com